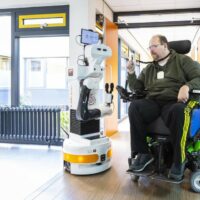 "Robot Rose helps care clients in Venlo with routine chores and can also make jokes"
Is everything in order in the patient rooms at a healthcare institution? Robot Rose can spot it on her inspection round and pass it on. The care robot 2.0 is being tested these days at De Zorggroep in Venlo.
Originally published by on January 19th, 2023
Resident Christiaan Schuelders of the De Witte Steen department of De Zorggroep in Venlo holds a ticket for the eyes of care robot Rose. It immediately switches and guides him to the activity room. When the task is completed, Rose drives back, waiting for new assignments. Rose is a guest at De Zorggroep for four weeks. The care robot travels through four European cities to consider what tasks it can be entrusted with. The Zorggroep has been using robots for some time, says project leader Marielle van de Ven. "Social robot Tessa, which resembles a flower pot, is already well established. It's in people's homes window sill and reminds, for example, of the medicines. In doing so, she helps people for longer
to maintain your own control.
Fall incidents
Rose goes many steps further. If she is properly trained, she can actually perform tasks take over healthcare workers, says Luuk Doornbosch of Heemskerk Innovative Technology (HIT) that the robot developed. "For example, making a round to check whether people are good at it lying in bed. This can help prevent falls. Or suppose there is an alarm and
healthcare workers are busy. Then Rose can take a closer look and images of the situation pass this on to the employees, who can then quickly see how much urgency there is."
Before Venlo, Rose was in Cologne and Barcelona and on Friday she will travel to Paris. Outside of Care group, they are mainly tested in hospitals. The reception function is being tested in Venlo. Rose has received the entire map of De Witte Steen in her system and is bringing residents where they want to be. Very funny, says resident Christiaan. But it's not over yet spotless. "Yesterday she was lost. But luckily I knew where to go."
Jokes
It's all part of the test phase, says Luuk Doornbosch. "If it gets too busy and so they encounters many obstacles, sometimes too much is asked at once." If the robot has about a years can actually be used, those teething problems have been resolved.
Although Rose will also be given social tasks – she can make jokes or show informative or relaxing videos – Doornbosch expects that the robot will mainly be used for routine care tasks. Marielle van de Ven is happy with new developments.. Marielle van de Ven is happy with new developments. "Just like everyone know, there is a major shortage of healthcare workers and an increasing demand for healthcare. The care will always be remain human work, but anything that helps to relieve employees is more than welcome."