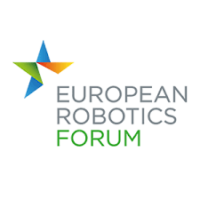 HIT Participated at European Robotics Forum '23
HIT presented the results of DIH HERO Project Robot ROSE-C19R
Odense, Denmark, March 21st, 2023
Last week our engineers Dimitris Karageorgos and Jasper Schol participated in the European Robotics Forum (ERF2023) in Odense, Denmark.
ERF2023 is the most influential meeting of the robotics community in Europe where researchers, engineers, managers, and a growing number of entrepreneurs, business people, and public funding officers from all over Europe come together to discuss technology push and market pull and how innovation in robotics and robotics-related AI can be accelerated.
We shared with the community the experiences and results of the recent deployment of Robot ROSE across European care organizations.
Dimitris and Jasper also joined two very interesting workshops, coordinated by DIH-HERO network for healthcare robotics:
Workshop 1: "VISION BEYOND THE CURRENT PRACTICE IN HEALTHCARE ROBOTICS". This workshop addressed the experiences from successful deployments in healthcare as well as the expectations from clinicians in order to result in a full "wishlist" from #clinicians which can be used for iterative optimization of robotics into the field.
Workshop 2: "Deploying Robots in the Clinical Setting – Experiences and Insights". This interactive workshop aimed to share experiences from the deployment in clinical environments and answer questions such as: What are common challenges in deploying robots in the clinical setting? How did the innovators from the field overcome these challenges? How does dedicated DIH-HERO deployment support help?
We are very happy to have shared our findings with the community and contributed to the discussions and work on the facilitation and adoption of robotic technologies in healthcare.