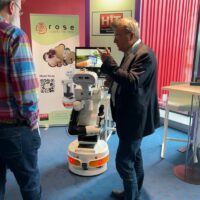 Robot Rose at Health Valley 2023
Robot ROSE at Health Valley in Nijmegen.
Nijmegen, The Netherlands, April 4th, 2023
On March 30th, we showcased our robot ROSE at the Health Valley Event in Nijmegen.
Thanks to the layout of the event, we had the fantastic opportunity to speak with healthcare professionals who share our drive to improve the well-being of others through technological innovation. We would like to extend our gratitude to the Health Valley organization for providing us with this opportunity!
About the Health Valley Event
The Health Valley Event is the largest healthcare innovation congress in the Netherlands. Every year, visitors from the Netherlands and abroad from healthcare, industry, research, education and governments come together to work on the health and healthcare of tomorrow. The event focuses on exchanging knowledge, but also gaining inspiration and especially matchmaking.