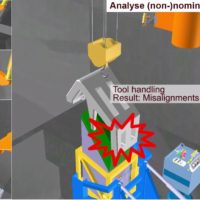 Maintenance Studies
For Maintenance Studies we use the same skills and tools as for Remote Handling Compabiliteits Analyses, but we focus more on the broader aspect of maintenance.
What are Maintenance Studies?
In a maintenance study we examine systematically whether a component or system effectively and maintain efficient
With Virtual Reality techniques we can perform this research at an early stage, if the system has not yet been built, and changes in the design even easier to realize.
Applications
Determine whether a component or system effectively and maintain efficient
When the reliability of the maintenance must be increased
Validating maintenance plans
If one wants to increase the safety on human action
In poor visibility on (maintenance) activities
When inaccessible places must be accessible for inspection and maintenance
Application areas
Designing for maintenance of capital
("Design fo maintainability"), reducing MTTR
Preparing maintenance of nuclear facilities
Preparing maintenance of scuba equipment
Benefits
Reliability of maintenance is increased
Security increases
Additional visual information available at work
Accessibility is increased
Unhide all competencies of various issues
In advance consideration of maintenance, and how maintenance should be performed