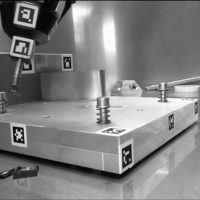 Synthetic Viewing
Synthetic Viewing facilitates maintenance in inaccessible environments, by enriching with Augmented Reality, camera images or even calibrated to operate in a virtual reality environment.
What is Synthetic Viewing
The system analyzes Synthetic Viewing camera images to identify and follow relevant objects in the scene. Their location and orientation on the basis of this spatial information is imported from a CAD model and is updated real-time.
The calibrated models form the basis for adding Augmented Features, which are projected as an overlay on the camera images, or completely artificial and virtual reality scenes with high contrast and resolution.
This Synthetic Viewing the system makes it possible for example occluded (hidden) to make visible features or to create a better approach to perform the task.
Applications
Maintenance in environments with limited visibility
Identifying and locating objects based on camera images
Adding additional information in the field of view (a mechanic gets in image tags that describe parts of a system)
Visualizing occluded objects
What is Synthetic Viewing used?
Application areas
Fusion
Fission
Space
Capital Goods
Subsea
Oil & Gas
Benefits
Clear and intuitive understanding of the environment, which actions can be performed faster and safer
The database object data is a source of information for system administration and optimization of operations
Easy to use
Additional information visually available
Any distance can be bridged
Accessibility and reliability is increased