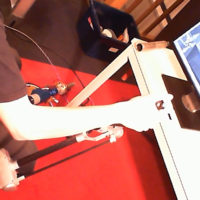 Interactive Task Simulator
With the interactive task simulator ITS users in a virtual environment test their designs. This lends itself to the development and validation of complex maintenance tasks, train operators and providing operational support during maintenance.
What is the Interactive Task Simulator?
With the Interactive Task Simulator to validate for large and complex systems, to train for controlling a system under construction operators and can be operational support provided during the execution of complicated maintenance. Maintenance plans already in the design and procedures.
Applications
Validating maintenance plans
Training of operators
Assembly, installation and maintenance of safety-critical situations
Application areas
ITER Remote Handling
Nuclear maintenance
Deep sea
Off-shore
Benefits
Simply act in complex virtual environments
Effective training of operators, enabling them to work faster and more secure
By testing and verification increased reliability and safety of maintenance