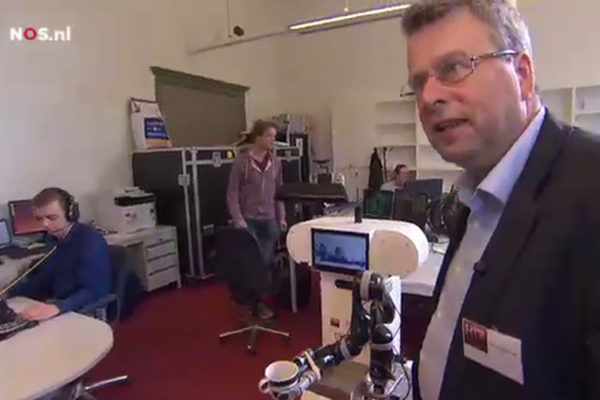 Advanced Interaction Technology for Carerobots
Support for domestic tasks, stimulating activities and improving social interaction
Status: Completed
From October 2018 until September 2020
Research Project
It has been predicted that the aging population will peak in the Netherlands in 2039. At the same time, there are fewer and fewer people who aspire to a care career. This creates a shortage of healthcare providers so that clients can no longer be adequately supported. Care robots can help to provide care for these people and provide company.

Unfortunately, current care robots do not come across as true to their mimicry and speech. This is partly because they are unable to interpret the (social) context of their environment and often have an artificial voice. As a result, the acceptance of care robots by clients is too low.

To enable context-sensitive interactions between the robot and clients, it is necessary to be able to interpret and express both verbal and non verbal cues. The aim of this project is therefore to develop software modules to enrich the communications of existing care platforms with context sensitive functionalities and extensive speech synthesis possibilities.

HIT cooperates with Prolody and Diginova. Prolody provides expertise to develop speech synthesis and speech-to-text technology and HIT focuses on mimicry and non-verbal robot expression. DigiNova plays a central role in the integration of this technology. The project is concluded with two validation pilots using a robot Pepper and robot Rose robot in various care scenarios.