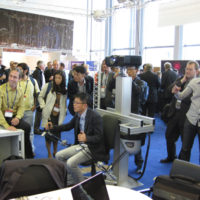 HIT at SOFT 2012 in Luik, Belgium
Heemskerk Innovative Technology (HIT) was present at the 27th Symposium on Fusion Technology SOFT 2012, held from 24-28 September in Liège, Belgium.
Luik, Belgium, October 3rd, 2012
Part of the symposium was an exhibition, where knowledge institutes and companies showed their products, technologies and R&D capabilities. HIT was one of the few particpants to show live demos an hence drew a large audience. The demonstration set-up was hosted by the ITER-NL stand and was realized in close cooperation with the FOM-institute DIFFER, and Haption, the supplier of the master arms.
Various demonstrations of haptic feedback were given, like virtual Jenga, a benchmark product with ITER relevant components, and various scenes from the maintenance of the ITER Upper Launcher. Highlights were the cooperation between two master arms at fulle scale, and a challenging tight/fit peg-in-hole taak with 'haptic shared control' support. Over the five days of the symposium, a continuous stream of highly interested and experienced visitors visited the HIT booth.
HIT was also present with various contributions in the poster sessions. An overview and link to the posters will follow here.