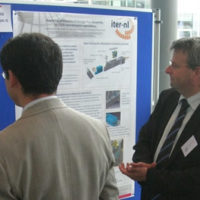 Heemskerk Innovative Technology present at SOFT 2008
At the 25th Symposium on Fusion Technology SOFT 2008, mid September in Rostock (Germany), Heemskerk Innovative Technology was represented in several locations.
Rostock, Germany, October 20th, 2008
In the ITER-NL stand at the Industrial fair, visitors could find a brochure and obtain background information. Also, Heemskerk Innovative Technology was present with 4 poster contributions:
Applying principles of design for assembly to ITER maintenance operations (gepresenteerd door Cock Heemskerk)
Analysis of the ITER ECH upper port launcher remote maintenance using virtual reality (gepresenteerd door Ben Elzendoorn)
Analysis of acceptance and accessibility of the ECH upper port launcher in the hot cell (gepresenteerd door Fred de Vreede)
Maintenance implications of critical components in ITER CXRS upper port plug design (gepresenteerd door Jarich Koning)
De papers supporting the poster session will be published at Elsevier Science Publishers as a special issue of Fusion Engineering and Design.