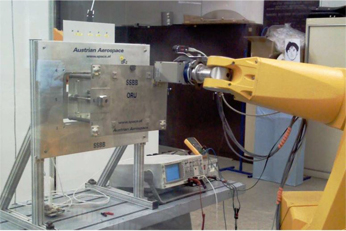 Satellite Servicing Building Blocks (SSBB)
A study by the European Space Agency (ESA) to commit remote maintenance of geostationary telecommunications satellites.
Status: Completed
From January 2007 until December 2008
ESA • Research Project
Challenge
Develop a concept and building blocks for extending the life cycle of once launched satellites, by performing in-orbit maintenance.
Solution
Servicing a satellite containing an automatic or remote-controlled robot arm can grasp and the target satellite designed components repaired or replaced.
Scope
The study is about the building blocks for such servicing missions and covers a wide range of aspects: economic feasibility, to make to the design of the auxiliary vehicle driven redesign the customer-satellite for remote maintenance possible from the earth to the maintenance to perform.
Implementation
To replace a faulty component such as a battery or radia sender the maintenance satellite has spare parts and a robotic arm to carry out the work. The replacement of a representative part is tested with an industrial robot in the laboratory.
Contribution HIT
Heemskerk Innovative Technology guided the Dutch company Heeze Mechanics on behalf of Dutch Space in designing and building a new gripper. The gripper was tested successfully during a testing campaign that was conducted in the laboratory of the University of Leuven in 2008.