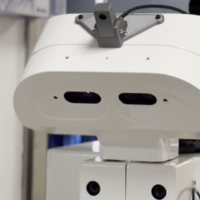 Visit to Badalona Serveis Assistencials to Test Robot Rose
Last month we visited Badalona Serveis Assistencials (BSA) to test Robot Rose!
Badalona, Spain, August 23rd, 2023
By
This time we went to two facilities of the BSA. In the El Carme ward we tested her risk assessment feature, and in the hospital, we tested her logistical support feature.
For risk assessment, ROSE uses thermal images to assess the risk level of patients, how likely they are to fall, and if there are any objects next to the bed that would cause the patient to fall when they get off the bed. ROSE patrolled the ward routinely day and night to ensure the patients' well-being. In the hospital.
Additionally, we performed logistic support tasks at Hospital Municipal de Badalona. For logistic support, ROSE delivers items from healthcare workers to target locations, which reduces their workload so they can focus on more important tasks. ROSE successfully navigates the hospital autonomously and provides a friendly audio cue when she arrives at the destination to inform the nurses that their items have arrived! All these features are showcased in the video below, so be sure to check it out:
ROSE is also getting a lot of traction from the Badalona news! Though, she is incredibly busy and a bit camera shy so sometimes you really have to chase her down to take good photos of her [winking emoticon] [robot emoticon].
Thanks again to BSA for another amazing collaboration! They are always a pleasure to work with, and we would love to collaborate again in the future. We will improve ROSE even more based on the testing results and move closer to our goal of revolutionizing the healthcare industry.
To find out more, visit www.robot-rose.com.