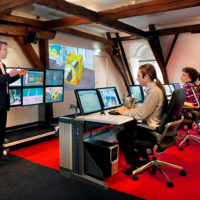 Remote Handling Study Centre at Rijnhuizen
The past year the Remote Handling Study Centre (RHSC) has been constructed at the attic of the Rijnhuizen mansion. The RHSC mission is to deliver effective remote handling maintenance scenario's for ITER.
This is of great importance to ITER IO, which will obtain design recommendations at system level, as well as to the designers of ITER components. Besides developing Remote Handling (RH) scenarios, the RHSC allows up to five operators to simulate RH-tasks in a shared virtual world.
HIT is actively involved in various RH-compatiblity analyses, it provides the day-to-day management and it coordinates the business development of the facility.
The presentation of the RHSC opening can be downloaded here.
More information on RH and the RHSC can be found here.