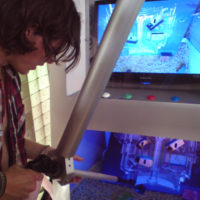 Llowlabs 2011 – ITER Remote Handling Demonstration Stand
At the Lowlands music festival in Biddinghuizen in August 2011, Heemskerk Innovative Technology participated with a Remote Handling demonstration stand on the Llowlabs Energy Island.
Biddinghuizen, The Netherlands, October 26th, 2011
The demonstration stand gave the public an opportunity to try and perform a real ITER Remote Handling maintenance task. Using a simple (garbage) gripper and a camera image of the task space, the visitors had to replace four major components of the ITER reactor.
During the three days of the festival, many hundreds of visitors came to the energy island. People were eager to try the demonstration and were quite surprised to experience that this seemingly simple maintenance task was to so difficult to perform remotely.