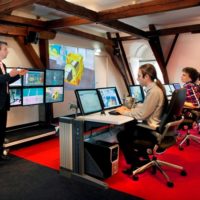 Remote Handling Study Centre
The Remote Handling Study Centre (RHSC) is located at our office in Delft.
What is Remote Handling?
Remote Handling is remote maintenance through robotic systems in master-slave setup. It is typically used as a direct work too dangerous or burdensome.
Mission Study
The development and validation of effective and efficient Remote Handling maintenance scenarios. The RHSC established for the purpose of maintenance of ITER. The RHSC also delivers draft opinions directly to the ITER Organization at the system level, but also through the Domestic Agencies and F4E to the designers and builders of components. Because ITER is still under construction, the maintenance scenarios developed and tested in a virtual environment, including contact forces, friction and haptic interaction. We can also validate a complete Remote Handling task in RHSC which cooperate to four operators and an instructor at the same time in a shared virtual world.
Contribution HIT
HIT is actively involved in conducting RH compatibility analyzes, performs the daily management of the RHSC and builds the portfolio to work out.