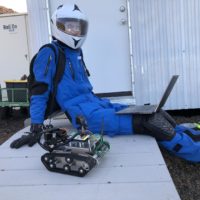 Supporting Research on Extraterrestrial Robot Applications
These weeks the EuroMoonMars IMA HI-Seas III campaign is taking place.
Hawaii, January 29th, 2020
This is the third campaign in a series of ESA's EuroMoonMars and ILEWG exploration campaigns to the International Moonbase Alliance analogue facility Hi-Seas in Hawaii. HIT is sponsoring this campaign, in which the researchers investigate lava tubes, soil characteristics and the cooperation between rovers (mobile robots) with different characteristics on the slopes of the Mauna Loa volcano.
"Today the crew went on 2 EVAs. The first included Commander Musilova, Chief Engineer Brasileiro & Lead Scientist Heemskerk. The team explored, mapped & named several previously unexplored lava tubes. Heemskerk & colleagues are looking forward to presenting these research findings in the future. The next crew was Commander-in-Training Rajkakati, Officer Edison & Head of Rover Operations Heemskerk. Rajkakati worked on preparing a sample for the Moon Gallery project, while Heemskerk worked on the operation of the EMMIHS rovers. Commander-in-Training Rajkakati was promoted to the position of Acting Commander today and will be leading the team for the last few days under the supervision of Commander Musilova. The prospect of the mission ending is bittersweet, as they have all grown fond of one another, yet they are happy they were all a part of such an amazing experience." — Source: LinkedIn
For more background information and the crew profiles, visit their official website.
View the video of the actual test via this link.