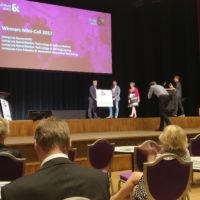 HIT Receives Voucher Medical Data
On Tuesday June 27th '17 we were happy to receive a voucher of Medical Data, to spend in one of the Living Labs of Medical Data.
Delft, The Netherlands, June 27th, 2017
Our goal is to run a project using Robot Rose at the care institution of Pieter van Foreest.
Please refer to the following (Dutch) article of Medical Data for more information regarding this setting.