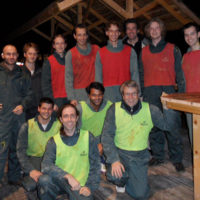 HIT 5 Years!
Last week Heemskerk Innovative Technology celebrated its 5th anniversary.
Noordwijk, December 3rd, 2012
Along with some good colleagues from the Remote Handling Study Centre of FOM Institute DIFFER we first sharpened our strategic and tactical skills through a live action game (paintball), during which the company name was dropped remarkably often ("hit, hit"). The day was concluded with a tasty dinner at Anderz.