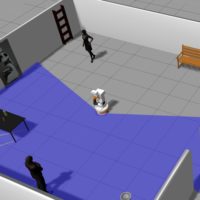 Robot ROSE – Virtual robot testing environment
BSc./MSc. Student Assignment Robot Rose
Associated project:
Contact person:
Introduction
Our society is ageing, resulting in fewer caregivers available to provide care for an increasing number of geriatric and physically disabled clients. Because of the ageing population and corresponding growth in care needs, HIT is developing Care Robot ROSE. ROSE will be able to 1) support care workers, reducing workload and shifting their daily work towards more client centered care, and 2) improve client autonomy by making clients less dependent on care workers, due to various physical tasks being able to be delegated to ROSE (e.g. getting a class of water).
With every new feature developed for robot ROSE, HIT thoroughly tests the robot in both Factory Acceptance Tests (FAT) and Site Acceptance Tests (SAT). Doing so accounts for real life scenario's and situations we would otherwise be unable to properly test for. The disadvantage however to running FAT and SAT are the efforts involved in using a physical robot prototype and the risks of damaging it. For this reason, HIT wants to expand its virtual robot testing environment to more accurately represent real-life scenario's. Such a virtual testing environment, for example created in Gazebo, significantly shortens and benefits HIT robot software developments. The challenge is to create a virtual environment that represents a real-life care setting, including medical/care facilities (e.g. bed, wheel chairs, supply trays, etc.) and moving people (clients and care workers).
Project
The outputs of this project are various. You will expand upon the work already performed at HIT by both professional developers as well as interns, with the goals to:
Analyze care settings and abstract to virtual environment requirements and conditions;
Develop and improve virtual robot testing environments (e.g. in Gazebo) in line with current in-house developments';
Introduce 'real-life' uncertainties in the virtual environment;
Build environment to be independent and versatile in implementation;
Expected output:
A list of obstacles of importance that need to be accounted for during autonomy developments
A Gazebo simulation of a care environment
A benchmark evaluation of a simulation environment with respect to a representative actual environment
Requirements:
Excited about new technologies, eager to work on state-of-the-art technologies;
Independent, enthusiastic, critical and research-driven;
Sense of responsibility, duty fulfillment;
Eager to work in an international environment, team-player, and able to collaborate with multiple organizations and companies;
Determined to dedicate time to the project, able to set priorities;
Skilled in documentation and presentation of (intermediate) achieved results;
Understanding of math and programming (C++, Python);
Familiarity with the Robot Operating System (ROS);
Familiarity with Gazebo is a plus.
What do we offer?