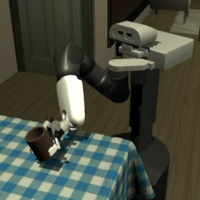 Robot ROSE – virtual framework for evaluation and training
BSc/MSc Student Assignment Robot Rose
Associated project:
Contact person:
Introduction
Our society is ageing, resulting in fewer caregivers available to provide care for an increasing number of geriatric and physically disabled clients. Because of the ageing population and corresponding growth in care needs, HIT is developing Care Robot ROSE. ROSE will be able to 1) support care workers, reducing workload and shifting their daily work towards more client centered care, and 2) improve client autonomy by making clients less dependent on care workers, because certain physical tasks can be delegated to ROSE (e.g. getting a class of water).
For the evaluation and training of robot ROSE remote operators, a virtual framework that allows for the control of the ROS-based robot in a physics modeled environment is required. Current simulators that are available within ROS do not allow for real-time feedback of haptic teleoperation. At HIT we have developed an Interactive Task Simulator (ITS) in which we can provide accurate real-time feedback for haptic teleoperation. Given that many robots, including robot ROSE, runs on ROS, we want to couple ITS to the ROS environment. This connection allows us to train and evaluate cockpit robot operations and interfacing.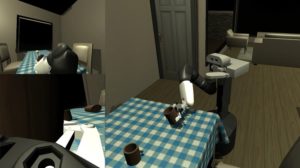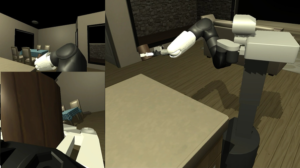 Project
This project involves the (re)creation and streamlining of the teleoperation control loop framework and allowing for the haptic teleoperation of any ROS-based robot in our physics modeled environment: ITS.
Expected output:
(Re)creation of the teleoperation control loop framework;
Update of framework to match current (version locked) in-house software packages (ITS, NVidia PhysX, ROS);
Demo robot operation in a simulated care environment;
Evaluation and identification of current robot operations.
Requirements:
Excited about new technologies, eager to work on state-of-the-art technologies;
Independent, enthusiastic, critical and research-driven;
Sense of responsibility, duty fulfillment;
Eager to work in an international environment, team-player, and able to collaborate with multiple organizations and companies;
Determined to dedicate time to the project, able to set priorities;
Skilled in documentation and presentation of (intermediate) achieved results;
Understanding of math and programming (C++, Python, MATLAB);
Familiarity with the Robot Operating System (ROS) and OROCOS.
What do we offer?