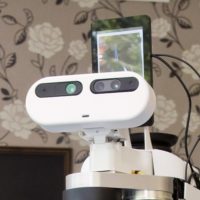 Robot ROSE – Robotics vision
BSc/MSc Student Assignment Robot Rose
Introduction
Our society is ageing, resulting in fewer caregivers available to provide care for an increasing number of geriatric and physically disabled clients. Because of the ageing population and corresponding growth in care needs, HIT is developing Care Robot ROSE. ROSE will be able to 1) support care workers, reducing workload and shifting their daily work towards more client centered care, and 2) improve client autonomy by making clients less dependent on care workers, due to various physical tasks being able to be delegated to ROSE (e.g. getting a class of water).
One of the developments that HIT performs is on the field of robotics vision. Robot ROSE naturally needs to be able to observe its environment, and detect both people and objects. People are important to accurately observe such that they may be approached safely to allow for verbal communications, or avoided in a socially acceptable way (i.e., not drive in front of somebody's feet!). Objects are important to detect, recognize, observe and parameterize, such that the robot can autonomously perform a range of tasks.
Project
This project involves various aspects of robotic vision, including (but not limited to):
ArUco marker detection, filtering, optimization and objects state deduction;
Object parameterization through RGB-D camera point cloud analysis & implementation and improvement of pre-existing visualization methods (e.g. OctoMap);
Human and object recognition & tracking using neural networks;
Sensors fusion and filtering.
Expected output:
The outputs of this project are various. You will expand upon the work already performed at HIT by both professional developers as well as interns, with the goals to:
Improve measurements precision, accuracy, stability and performance;
Increase functionality towards a range of tasks, such as autonomous navigation and autonomous manipulation.
Throughout developments on the robot vision systems, HIT performs in-house as well as on-site acceptance tests. Your work will be similarly tested in unstructured real-life scenarios with a focus to ensure robustness of operation and safety!
Requirements:
Excited about new technologies, eager to work on state-of-the-art technologies;
Independent, enthusiastic, critical and research-driven;
Sense of responsibility, duty fulfillment;
Eager to work in an international environment, team-player, and able to collaborate with multiple organizations and companies;
Determined to dedicate time to the project, able to set priorities;
Skilled in documentation and presentation of (intermediate) achieved results;
Understanding of math and programming (C++, Python);
Familiarity with the Robot Operating System (ROS).
What do we offer?
International environment;
Hands-on experience with robotics in the face of real-life challenges;
State-of-the-art hardware (e.g. haptic simulator, care robot, etc.)
Bi-weekly progress meetings;
A daily supervisor to provide guidance if needed.