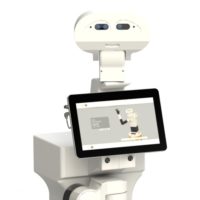 Robot Rose – communications and speech
BSc/MSc Student Assignment Robot Rose
Associated projects: and
Contact person:
Introduction
Our society is ageing, resulting in fewer caregivers available to provide care for an increasing number of geriatric and physically disabled clients. Because of the ageing population and corresponding growth in care needs, HIT is developing Care Robot ROSE. ROSE will be able to 1) support care workers, reducing workload and shifting their daily work towards more client centered care, and 2) improve client autonomy by making clients less dependent on care workers, due to various physical tasks being able to be delegated to ROSE (e.g. getting a class of water).
One of the important aspects of care robotics is the capability of robot ROSE to communicate with clients and care workers. This is because the acceptance of robot ROSE is not only related to how the robot looks and whether it is functional (or not), but also how it behaves and talks. A 'robotic' voice is unwanted, and a robot that just stands in place and talks to no one in particular feels unnatural. Natural speech and robot body language are necessary for convincing client-robot communications.
Project
This project involves all continued development of all aspects of robot communications with clients and care workers. Factors that are of relevance to this development are:
User profiling and definition of client-robotic communication requirements;
Text-to-speech and speech-to-text synthesis;
Speech dialogues;
Robot body language;
Client tracking and addressing.
Robot tablet interfacing and UI
Expected output:
The outputs of this project are various. You will expand upon the work already performed at HIT by both professional developers as well as interns, with the goals to:
Implement and improve upon open source communications modules;
Code robot body language modules in sync with communications;
Robot attention module in cooperation of human/facial tracking;
Robot-cloud connectivity for cloud-processing;
Tablet with user interface;
Requirements:
Excited about new technologies, eager to work on state-of-the-art technologies;
Independent, enthusiastic, critical and research-driven;
Sense of responsibility, duty fulfillment;
Eager to work in an international environment, team-player, and able to collaborate with multiple organizations and companies;
Determined to dedicate time to the project, able to set priorities;
Skilled in documentation and presentation of (intermediate) achieved results;
Understanding of math and programming (C++, Python);
Familiarity with the Robot Operating System (ROS).
What do we offer?
International environment;
Hands-on experience with robotics in the face of real-life challenges;
State-of-the-art hardware (e.g. haptic simulator, care robot, etc.)
Bi-weekly progress meetings;
A daily supervisor to provide guidance if needed.