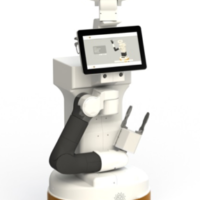 KKH Dedicated Robot-Human Speech Dialogue
BSc./MSc. Student Assignment Robot Rose
Associated project:
Contact person:
Robot ROSE will work fully autonomously, but in future implementations must be able to listen to both voiced care staff commands and hospital client questions. For either cases, a speech recognition not only needs to be implemented, but also a proper dialogue tree established related to relevant nurse commands and client questions.
First, a standard (open source) speech input module must be implemented on robot ROSE. Second an indexation of nursing commands and client questions needs to be established such that a dialogue tree can be created. Subsequent tests with nurses and client need to be performed to obtain user-feedback and opinion.
Project output:
Indexation of required robot speech input commands from nurses
Indexation of frequent hospital client questions
Implementation of an (open source) speech recognition module
Setup of a dialogue tree for both nurses and clients
Test of dialogue tree in KKH environment to obtain user feedback and opinions
Required:
Excitement about new technologies, eager to work on state-of-the-art technologies;
Independence, research appetite, enthusiastic, self-critical;
Sense of responsibility, duty fulfillment;
Eager to work in an international environment, team-player, collaborate with multiple institutions and companies, determined to dedicate time in the project, able to set priorities;
Basic understanding of math and programming (C++, Python, Matlab);
Familiarity with the Robot Operating System (ROS).
Nice to have:
Basic understanding of machine and deep learning, neural networks, optimization techniques (gradient descent, mini-batch gradient descent);
Basic understanding and/or experience with computer vision techniques (object recognition, feature detection, image classification etc.);
Experience with deep learning frameworks (Caffe, CMTK, Tensorflow, Pytorch, Theano, etc.) would be highly appreciated;
Hardware and software skills (experience with NVIDIA Cuda, Jetson, etc.).